Ledare över hela världen är medvetna om de kommande förändringarna och inser att för folkets skull måste de komma till stånd. En del tror dock fortfarande att de kan få alla förmånerna och hålla sig fast vid de gamla sätten, som inte längre är kompatibla med planen för er. Oroa er inte, då de som känner att de inte kan acceptera vad vi har att erbjuda kommer att behöva avgå. De som kommer fram för att ta deras plats är redan kända för oss som visionärer, och är medvetna om att de har en viktig roll att utföra. Ni kommer inte längre att utsättas för korrupta avtal med de större företagen, och deras makt och inflytande kommer att kraftigt reduceras. Er tillit till politiker kommer att återupprättas, då ni ser att de som har fått ansvaret för er framtid är spirituellt motiverade och också av Ljuset.

När fattigdom och brist tas om hand om så kommer ni omgående se en förskjutning av de kriminella handlingarna som kommer sig av sådana förhållanden. Uppdelningen mellan "de och oss" som har orsakat två klasser av folk kommer att försvinna. Rikedomar och tillgångar kommer att distribueras om och ingen kommer att kunna behålla vad de olagligt har roffat åt sig. Tro oss när vi säger att vi vet precis hur rikedomar har skapats, och mycket har skapats genom manipulation och rena stölder. Vi vet också var det gömts, och hemliga konton kommer att avslöjas och konfiskerade. Det finns ingen plats i framtiden för en orättvis distribution av tillgångar, och pengar till och ihopsamlade av regeringar kommer att behöva bli helt och fullt redovisade hela tiden.

Vi har inte mycket tid kvar för att fortsätta att övertyga många väl kända personer i er värld att de gamla sätten måste förändras, då det kommer att införas oberoende om folk är förbereda eller ej. Tanken att ett totalt nytt samhälle blir fullt accepterad av fler människor än någonsin. Ni har absolut gjort det klart att ni är olyckliga med det gamla systemet, som inte har gett er fördelarna från ert arbete och inte heller hedrat er suveränitet. Till skillnad från tidigare civilisationer så kommer ni inte att bli förstörda, och prat en stor katastrof och globala katastrofer kommer inte att infrias. Vi kan kontrollera sådana händelser, men vi måste tillåta Moder Jord att också ta del av renandet, men vi kan minimera dess effekter.

Helt klart så finns det inte mycket tid kvar för att vänta på att hela processen av förändringar påbörjas. Planen ligger på plats och kommer snabbt att införa dessa inledande förändringar, och de kommer att signalera till alla att de mörka Tjänarna har blivit förnekade deras maktposition och att de inte längre bestämmer över er. Den resulterande lyckan och glädjen kommer att höja ert medvetande högre och dessa underbara energier kommer att frigöra frustration och ilska som har byggts upp under en lång period. Fred kommer till Jorden och de långvariga motsättningarna mellan er kommer att åtgärdas. Då det finns överflöd så finns det ingen anledning att åtrå grannens tillgångar, och ett lyckligt och tillfredsställt folk kan dela sin kärlek med andra och njuta av sin nyfunna frihet.

Då ni närmar er slutet av året så kanske det är er slutsats att de många händelserna som vi kontinuerligt har talat om måste starta upp. Det är i högsta grad sant, och istället för många individuella, så blir det en hel serie av dem som blir sammanlänkade. Mycket måste förberedas i förväg inför vår masslandning, och alla synbara hot mot oss måste avfärdas. Första Kontakt kommer därför att bero på vissa faktorer innan vi kan gå framåt. Det kommer dock, och blir en del av ett stort firande av ert återförenande med oss, som när allt kommer omkring är era sanna bröder och systrar. Ni har varit i mörkret under en så lång tid och Ljuset rensar nu ut spindelväven i ett system som var ämnat att utöva total kontroll över er.

Detta är tiderna då er beslutsamhet kommer att testas hårt, och vad som än är beräknat för att distrahera er från sanningen skall ignoreras. Inget kommer att stoppa Upplyftningsprocessen från att till slut manifesteras vid slutet av 2012, så håll vid era uppfattningar och stå rak i ryggen i ert Ljus.

Tack SaLuSa
Mike Quinsey

Website:
Tree of the Golden Light
"CONNECTING THE LIGHT" FRIDAY 16TH, SEPTEMBER 2.00PM, PST.
~FROM GALACTIC LOVE REPORTER MIKE QUINSEY~
Hi Friends,

I will be discussing with Genii Townsend her book "The

City of Light - Sedona" covering some 34 visits she has made to the Embassy

of Peace, which is filled with hundreds of Space Entities, where she is able

to learn of the City and its coming fulfillment.

The prototype City of Light is holographic, and expected to

soon be lowered to the surface in Sedona, and it will be followed by another

2 elsewhere in the US. Eventually there will be a total of 14 Cities of

Light throughout the world. The purpose is to have all kinds of healing

technologies available, as all must be healed.

Frequent reference is made to 11.11.11 and referred to as a

Love Wave, and it has to come before the first City of Light appears. Genii

has been told that both equal love, representing the NEW WORLD coming into

being, like a planet reborn in the Universe exploding with Light, and it

will be so. Also that the 11.11.11 Love Wave is the closest prognosis as to

a time line, that has to happen first.

Commenting on Disclosure, her contacts at the Embassy of

Peace stated that there would be Disclosure, but no particular date as the

energy pattern fluctuates dramatically, and the entrance of the City of

Light frequencies interrupt the normal flow you are used to daily. It would

only take place on the 27th. December 2011 if all were in the projected time

line of Disclosure, and according to its effect on the City of Light. She

has also been told that the weather changes all over our planet is due to

the pre-City energy coming into our 3 dimensional atmosphere.

Genii is the City Embassy Emissary of Love, and expects at

some stage to talk of her work with President Obama who she is told holds

the Light, and also at the United Nations. Genii has spent 27 years involved

in this project, and only recently been given permission to announce her

mission of enlightenment.

I feel that this event is so important, that I am sending

out this advance information so that if you wish, you can buy the book prior

to the program. I feel that will make it more enjoyable and understandable.

Genii's website is:
and her E.Mail address
thegeniiconnection@msn.com
This will be one of the most exciting programs I have taken

part in.

In Love and

Light. Mike Quinsey.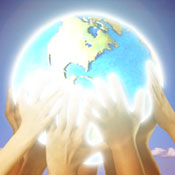 Originals and translations of Galactic Messages available on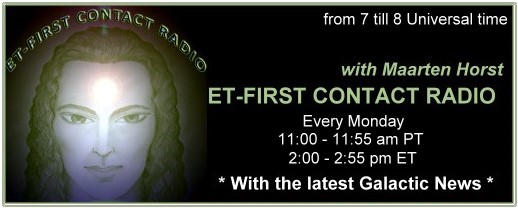 Every Monday night from 8 to 8:55 pm
channelings and related matters are being discussed on First Contact Radio.
The show is hosted by Dutch lightworker Maarten Horst and is presented in English.