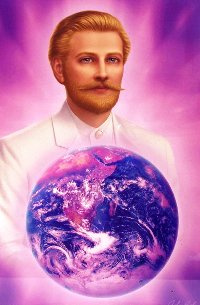 SIGN NESARA And DISCLOSURE
St.Germain - NESARA Brings Peace On Earth!
"Greetings, Beloved Family! I, St Germain, stand with you, and I read the messages from your beautiful hearts and I know what it is that will bring Joy to you and indeed to this entire Planet Earth. Yes, I know of your deep desire for Peace throughout all of the lands, and Peace amongst yourselves, even within yourselves. And I can assure you that I have inspired once more an answer for you, and the name of that answer is NESARA!
"It is the National Economic Security and Reformation Act. Reformation is a key - NESARA brings Peace on Earth to everyone, and along with that, it brings the Security of Abundance. How many ones do you know, Beloved Family - you yourselves might be among those - who are feeling the indignities and inequities of lack which most all of your society - indeed 99% of the society of the World - endures? I am here to tell you that NESARA is a Law, and it is coming from a higher source - a divine source if you wish - a sacred, high dimension where Christ Consciousness is the guideline. Indeed, it is the lifestyle of all. And I, and the other Masters of that high dimensionality have come together in Oneness when Planet Earth has needed inspiration and support in times past.
"And I come now with a message from the Masters, and I have the honor and the Joy of providing inspiration for the NESARA Law, as I did for many documents, including the Declaration of Independence for the United States of America, known as the colonies at that time. And so I come now to assure you that NESARA is the answer to all that troubles you, whether it be financial lack, whether it be the pollutions of Planet Earth, whether it be the various inequities in educational opportunities, in medical care, in Freedom to express yourselves and to live your lives as you have passion to do.
"So answer this call that we make to you to step up and stand with us and be counted!!! Your courage shall be rewarded when this Law is made the Law of all realms, not just the United States. This Law is for the World. And it will go forth and multiply instantly. All of the economic disasters shall be reformed. There shall be equity, parity, and integrity for all - every man, woman and child now upon Planet Earth!
"Just think what you could do, if you did not have financial lack concerns! Just think how joyful it would be to share with all! Just think how you could greet your brother as you, as One with you, and how you could reach out and share and be shared with, until such time as money becomes unnecessary and non-existent upon Planet Earth. And this is the goal of NESARA, Beloved Ones! Yes! It shall bring the gold held in my name, out of St Germain's Bank to everyone upon Planet Earth, and when everyone has enjoyed the abundance, then the dollars will no longer be necessary.
"NESARA removes all threats and blockages to your Joy and yes, when NESARA is announced, those who have been controlling and instigating the wars and the famines and all of the poverties and the cruelties will be disempowered for all time! Indeed, that very process is happening now. And we invite you now to stand with us, to step up and raise your voices for NESARA, because it is the way to the Peace that Passeth all Understanding, and to all Joy, because it brings all Freedom to everyone in the human kingdom of Planet Earth!!!
"And so we say to you,

'Thank you for being here at this most exciting time ever!'

And we ask you to do your utmost - each and every one of you - to bring NESARA into the Light and into its Announcement. There are many standing ready - White Knights and brave souls, and Obama is the leader in the Announcement which is to come. We ask that you sign the petition to tell Obama that you are ready and speaking on behalf of the World, because, yes, there are many who are not awakened and who do not know of this fabulous opportunity.
"The window is wide open for the Announcement! It is supported and empowered by all the glorious incoming energies. Now is the moment in your time! Stand up, be counted and shine forth, and speak for Peace and Love and Abundance for all, with Freedom to enjoy all the wonders that living Now on the Planet offers to you. Also remember that those of you who have chosen Ascension will find your path much eased, once NESARA is announced and implemented. Just think of the many ways you can enjoy all of the benefits!!!
"Go to the websites.* Read more, and as you do, empower NESARA, as you know how to do. Sign the petition, send it forward and yes, stand up with the marchers! And if you are not in close enough proximity to stand with them, then send them your Love and your Blessings. Together, as One, we are moving along the great path of the Golden Age, and NESARA truly is the key that opens its door!
"Thank you for all that you have done and for all that you are about to do. You are honored, appreciated and most of all, loved. And so it is! Namaste!"